Our
Vision
We sat down with Children's Therapy TEAM Founders, Kym Hannah and Cindy Watson, and asked them about their remarkable journey and vision for great care in Northwest Arkansas.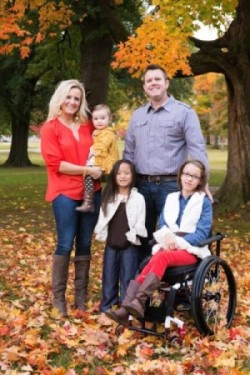 When they first met, Kym and Kevin Hannah had no idea they would one day become what local newswriter Allison Carter has called a "a beacon of hope for special needs children in Northwest Arkansas." After Kym graduated with a degree in Physical Therapy from Arkansas State University, she returned home to NWA and discovered a need for more holistic treatment options focused on the needs of families as well as patients. This vision was shared by Cindy Watson, a fellow therapist and friend. So with the support of their families, Children's Therapy TEAM began in 2000 when Kym (TEAM CEO) and Cindy (TEAM COO) started seeking out other-centered therapists that shared their singular focus on serving the best interests of children and families.
"Our passion and committed involvement to reach out to this special needs population of children has always been present" said Kevin Hannah, "but it soared when my wife met our first daughter." After hearing about the great need for therapists and aid at orphanages in Ukraine, the Hannahs joined with fellow Children's Therapy TEAM therapists and staff members to form TEAMworks International. They set out to travel the world educating caregivers, providing specialized equipment and offering individualized treatment plans for children with special needs.
When Kym joined other TEAMworks therapists in traveling to an orphanage in Kramatorisk, Ukraine, she encountered children with special needs remaining in their beds 24 hours a day, often tied down. Their caretakers were ill-equipped and had seemingly given up on them making progress. It is there that Kym first met Myrah. At 4 years of age Myrah was severely malnourished, weighing only 21 pounds. She suffered from traumatic brain injury, periventricular leukomalsia (cerebral palsy), PTSD and was later diagnosed with autism spectrum disorder. Despite the hardships, eight months later the little girl from Ukraine was at home in Arkansas, having been adopted by the Hannahs.
Kevin shares that "it took about a year before Myrah ever made a sound and now she puts sentences together." Through believing in all that Myrah could be, the couple founded the Northwest Arkansas Center for Autism to provide individualized instruction and interventions grounded in applied behavior analysis (ABA). At the time, intensive ABA treatment options were scarcely available in Northwest Arkansas. The center served as a new model of care in the region for children with developmental needs.
The Hannah family now includes three beautiful daughters from three continents. The vibrant TEAM family includes over 50 therapists dedicated to serving children locally and internationally, and TEAMWorks is active in Ukraine, Guatemala and China. Kym, Kevin and Cindy's simple mission to "believe in kids" is bearing fruit for hundreds of children in Northwest Arkansas and around the world.
Sincere thanks to Allison Carter. Some content drawn from her article, "The Family TEAM." NWA Media 2013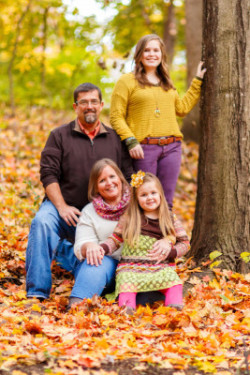 Cindy Watson considers helping kids communicate to be one of her greatest passions in life. She draws from her life experiences as a mother of two beautiful daughters, Hannah and Mary Claire in her work as a Speech Therapist and Chief Operations Officer at TEAM. With her husband Ray by her side, Cindy has been a vanguard for pediatric speech language pathology treatment in Northwest Arkansas for over a decade. As a teenager Cindy was initially inspired by her Sunday School teacher who was a speech pathologist. Cindy loved the idea of transforming children's lives for the better. To this end Cindy went on to receive her Masters in Speech Language Pathology from Northeastern State University. After graduating Cindy dove into pediatrics while serving as a Speech-Language Pathologist at Thurman G. Smith Elementary in Springdale, Arkansas. At the time the school served as a local epicenter for children with hearing loss. There her proficiency with signing exact English soared. She later served at the Northwest Arkansas Education Service Cooperative before opening her own practice, Watson Speech and Hearing Specialists, Inc. Providing even more extensive services to children and families, Cindy's company eventually became Children's Therapy TEAM.
Thank you to Andrew & Connie Photography for the beautiful picture of Cindy and her Family.